Overall Rating (out of

100%

)

► 97% Top Pick

Price of HealthPro Plus

$899

Model#

IQ AP HPP

Overall IQ Air Purifier Review Summary the Best Home Air Purifiers efficiently filter BOTH Gases AND Particles from indoor air. HealthPro Plus is un-matched for removal of both solid and gaseous pollutants

Superior Choice for Asthma, Allergies, Respiratory Illnesses, and Multiple Chemical Sensitivities (MCS). Highly advanced 4 Stage Filtration captures nearly 100% of common household Particle & many Gaseous Pollutants & Odors. See the infographic below to see how it works

4 Stages of Air Filtration Removes Nearly 100% of Household Indoor Air Pollutants

Including Solids and Gases Known to Trigger Asthma and Allergies (see diagrams below):

Mold Spores

Pollen

Pet Dander from cats, birds, dogs, ect.

House Dust Mite Allergens

Cockroach Allergens

Chemical Gases

Odor-causing Volatile Organic Compounds

Harmful Chemicals such as Formaldehyde Gas

Ultra-fine Particles such as Viruses, Bacteria, and Combustion Particles

Controls Tobacco Smoke Pollutants

but please keep in mind no home air purifier will totally compensate for someone smoking tobacco products indoors, the volumes of gases and particles will overwhelm even the best home air purifier filter technologies

Max. Room Area for at least 2 air changes per hour (ft2), 8' ceiling & 10hr/day @ speed 3
1,125 ft2
Max. Room Area for recommended 6 air changes per hour (ft2), 8' ceiling & 10hr/day @ speed 3

500 ft

2

Dimensions

28"H x 15"W x 16"D

Weight w/ filters installed (pounds)

35 lb.

Pre-Filtration Quality

Excellent

Pre-Filter Details (for coarse to fine initial particle capture & to extend life of other filters)

High Flow Pre-Filter

99% efficient for 5 micron, 55% for 0.3 micron (certified EN-779 Class F8) See Pre-Filter Diagram below

Pre-Filter Life (approx.)

Excellent

6-18 months

@ avg usage of 10hr/day on fan speed 3,

filter life will also vary depending on air quality environment where IQAir Purifier is used

Gas/Odor Filtration Quality

Superior

Gas/Odor Filtration Details

Yes, V5-Cell Filter MG (5 lb. Activated Carbon & Alumina) included, (approx. filter life = 2 years) V5 is a main benefit of this model over others. See HealthPro Plus Odor/Gas Filter Diagram below

Overall Particle Filtration

Superior

Particle Filtration Details: HyperHEPA Post-Filter Medical Grade (to remove fine and ultra-fine particles)

100 times more efficient than standard HEPA filters

Certified to remove 99.97% of particles 0.3 microns or larger, 53 ft2 filter media surface area, Non-woven Glass Microfiber Media, Medical Grade, non-offgasing Filter Separators (see Healthe Pro Plus HEPA Filter Diagram below)

Superior

HyperHEPA Filter Life (approx.)

Excellent

2-4 years

@ avg usage of 10hr/day on fan speed 3, filter life varies depending on air quality environment where IQAir Purifier is used.
Total Filtration Efficiency (

certified

)

99.97% of

0.3 micron (each IQ Air Purifier is individually factory tested to verify this high level of filtration efficiency), and 99.5% of 0.003 micron (smallest particles)

Passes World's Most Stringent HEPA Filter Test for ultra-fine particle removal (EN-1822 Certified)

At least 99.95% removal of 0.22 micron particles at air flow rate of 112 cfm or less (HEPA Class H13 - MPPS Efficiency) Superior

At least 99.5% removal of 0.16 micron particles at air flow rate of 280 cfm or less (HEPA Class H12 - MPPS Efficiency) Superior

Remote Control w/ batteries
Castors for ease of mobility

Control Panel

Advanced LCD display

, 4-key touch-pad, 16 character 2-line, English/German/Spanish/French user selectable language display option.

Filter Life Indicator

Intelligently monitors actual use of each filter stage

(taking into account fan speeds and actual run time) w/ 3 filter life status LED indicators.

Timer

Programmable advanced timer

with day & hour operation settings, LED indicator.

Fan / Motor

6 speeds (programmable to 2 time periods)

, Centrifugal, Backward Curved Fan, Motor CSA rated for Continuous Operation, Thermal Protector, 780cfm @ 2750 RPM. See HealthPro Plus fan/motor diagram below

Air Intake / Output

Air enters through dual arches at base of HealthPro Plus air purifiers and exits at top via a 320 degree "EvenFlowTM" diffuser which reduces air velocity & turbulence, thus reducing noise.
Delivered Airflow Rate at each fan speed w/ filters installed (cubic feet per min)(certified & leak tested + Triple sealed):

40, 75, 130, 170, 200, 300 cfm

Power Required:

100-120 Volts, 50/60 Hz

Energy Usage for 6 fan speeds (Watts):

Energy Efficient Healthe Pro Plus Air Purifiers

(costs only pennies/day to operate) #1: 27 watts, #2: 53 watts, #3: 92 watts, #4: 121 watts, #5: 215 watts, (Standby uses < 1 Watt)
Noise Level for each of 6 speed settings (in decibels) - specially engineered for extra noise dampening, 32% quieter.
Speed 1: 35 db, 2: 46 db, 3: 54 db, 4: 60 db, 5: 64 db, 6: 69 db (

IQAir Air Purifier sound output has been further reduced by 32% with their latest "New Edition" enhancements

- which includes a more efficient highly advanced aerodynamic fan, sound dampening materials, and improved air outflow design.)

Material Safety / Durability

Superior

IQ

Air Health Pro Plus Air Cleaner Housing is Non-offgasing, UV-stabilized ABS, Impact Resistant plastic. Filter Separators are also Non-offgasing.

Certified Ozone Free

(by IAACM), no UV, ionization, or airborne chemical purification

Accessories Included:

Power cord and plug included, Hand-signed Certificate of Performance included, Remote Control w/ batteries included, Casters included, All Filters included, and User Guide in VHS and DVD formats included.

IQAir HealthPro Plus Warranty:

Excellent 5 Year Warranty on Parts and Labor for HealthPro Plus Model

(filters excluded)
Diagram of IQ Air HealthPro Plus Chemical and Odor Filter Stage #2 & #3, A Primary Benefit Over Other Home Air Cleaner Models


The HealthPro Plus V5 Chemical Gas and Odor filter makes this the top chemical air purifier in the HealthPro series and among the best worldwide for removal of those tiniest and most health damaging of toxic gas molecules that can diffuse into our bloodstream after being inhaled.
These Volatile Organic Compounds, VOCs as they are known, are a major cause of Sick Building Syndrome and indoor allergy symptoms, in addition to being suspected contributors to many other long-term chronic diseases, cancer, neurological disorders, lung disease, and organ damage.
I would NEVER invest in a home air purifier that did not include both high capacity HEPA and chemical gas filtration. The IQAir HealthPro Plus air purifier has that and more. It is even the preferred choice for those people diagnosed with Multiple Chemical Sensitivity (MCS).
That says a lot because those inflicted with MCS usually require the purest air possible since they are the canaries in the coal mine of indoor air pollution. Even trace air contaminants can cause a severe allergic response in this individuals.
MCS sufferers often know very well that most basic air cleaners are little more than dust collectors without the ability to capture chemical gases, much less the finest of solid particulates.
And if average room air cleaners do have gas filtration, the filters are usually only carbon-based, with no activated alumina. And the amounts are a pound or less, and often just a dusting of the filter fibers so marketers can add chemical removal ability as a hyped up marketing blurb.
But the amount of chemical filter media is very important to capture odors and VOCs efficiently and for an extensed period of time without the media becoming saturated too quickly.
The IQ Air HealthPro Plus is the best air purifier for odor and chemical removal because it contains a whopping 5 pounds of a two stage gas/odor filtering media consisting of special pelletized high-grade activated carbon and potassium permanganate impregnated alumina.
Not only is this a very impressive amount of gas-phase filtering media, but it is also highly advanced because it both captures odors and gases and even destroys some airborne compounds through an oxidation reaction provided by the activated alumina spheres.
The HealthPro Plus is the only model out of the HealthPro series that comes with the V5-Cell filter already included. The regular HealthPro model is upgradable, but I would recommend this model as the better value with everything already included.
If you need to purchase a replacement V5-Cell Gas & Odor Filter look for Art. No. 102 18 10 00
Diagram of the IQAir HealthPro Plus Hyper HEPA Filter for Superior Filtration of Ultra-fine Particles Such as Viruses, Bacteria, Combustion Particles, and Low Levels of Cigarette Smoke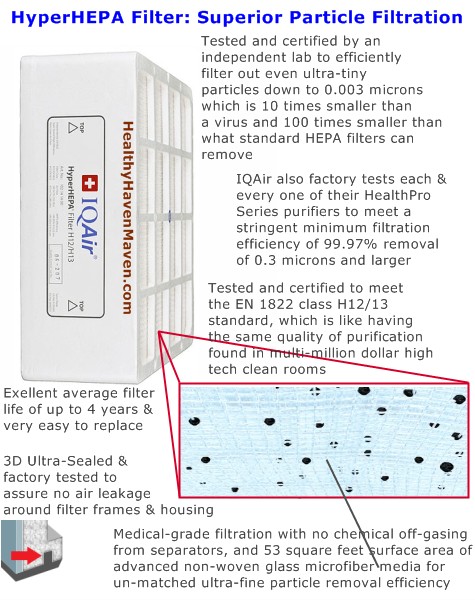 Amazingly, the IQAir HealthPro Plus particle filtration ability is 100 times better than standard high efficiency particle arresting filters (HEPA) found in most other room air cleaners.
Unlike most home air purifiers, the HealthPro Plus IQAir air purifier with HEPA filter will capture and remove even viral bodies and bacterial cells from your indoor air.
So it can even help control the spread of infectious diseases. This is an important feature for anyone with a weakened immune system or who may be suffering or recovering from a disease or respiratory illness.
Highly efficient viral filtration is a major reason why the HealthPro Plus was chosen for use in hospitals to help remove the SARS virus from air during the last major outbreak in Asia.
The HyperHEPA filters also has a much higher capacity which allows it to collect more particles for a longer filter life than average. Thus replacement filter costs tend to be lower than many other inferior brands currently on the market.
If you are looking for replacement HealthPro Plus HyperHEPA Filters look for Art. No. 102 14 14 00