Introducing the World's Best HEPA Air Cleaner Intelligently Designed for Top Performance IQAir HealthPro Air Purifier 
Overall Rating (out of

100%

)

► 93% Superior HEPA Air Purifier (upgradable for odor & gas filtration for ~$99 more)

Price of HealthPro Air Cleaners

$849

Model#

IQ AP HP

Overall IQ Air Purifier Review Summary Please keep in mind the Best Home Air Purifiers efficiently filter BOTH Gases AND Particles from indoor air, so I recommend air cleaners that include HEPA and Gas/Odor filter stages...

Excellent for most household particles, but No Gas / Odor filter included (gas / odor filter is optional add-on.) A better value is our top-rated model the IQAir HealthPro Plus Air Cleaner (link below) because it is identical to this model, except for the fact that it already comes with all 4 filter stages, including the powerful V5-Cell Gas/Odor filter for a total price less than what you'd pay if you buy and upgrade this model. Click above link for complete rating, review, and diagrams.

2 Stages of Air Filtration Removes Nearly 100% of Non-gaseous Household Indoor Air Pollutants (ultra-fine solids).

There is an option to add the below V5-cell Gas/Odor filter which will add 2 more stages for gas/odor filtration, for a total of 4 different filtration media types that captures nearly 100% of all common household pollutants, including solids AND gases known to trigger Asthma and Allergies (see diagrams below):

Mold Spores

Pollen

Pet Dander from cats, birds, dogs, ect.

House Dust Mite Allergens

Cockroach Allergens

Ultra-fine Particles such as Viruses, Bacteria, and Combustion Particles

Chemical Gases (w/ V5 filter upgrade)

Odor-causing Volatile Organic Compounds (w/ V5 filter upgrade)

Harmful Chemicals such as Formaldehyde Gas (w/ V5 filter upgrade)

Controls Some Tobacco Smoke Particles

(and gases w/ V5 filter upgrade).

Please keep in mind no home air purifier will totally compensate for someone smoking tobacco products indoors. The volumes of gases and particles produced by indoor smoker(s) will overwhelm even the best home air purifier filter technologies. Also, NO home air purifier will remove toxic indoor surface cigarette residue contamination (now being referred to as Third-hand Smoke Residues).

Max. Room Area for at least 2 air changes per hour (ft2), 8' ceiling & 10hr/day @ speed 3
1,238 ft2
Max. Room Area for recommended 6 air changes per hour (ft2), 8' ceiling & 10hr/day @ speed 3

500

ft

2

Dimensions

28"H x 15"W x 16"D

Weight w/ filters installed (pounds)

29 lb.

Pre-Filtration Quality

Excellent

Pre-Filter Details (for coarse to fine initial particle capture & to extend life of other filters)

High Flow Pre-Filter (no Carbon for gases)

99% efficient for 5 micron, 55% for 0.3 micron (certified EN-779 Class F8)

Pre-Filter Life (approx.)

Excellent

6-18 months

@ avg usage of 10hr/day on fan speed 3,

filter life will also vary depending on air quality environment where IQAir Purifier is used

Gas/Odor Filtration Quality

Not Included but optional

Gas/Odor Filtration Details

Not Included

, but can upgrade w/ V5-Cell Filter MG for Gas & Odors

Overall Particle Filtration

Superior

Particle Filtration Details: HyperHEPA Post-Filter Medical Grade (to remove fine and ultra-fine particles)

100 times more efficient than standard HEPA filters

Superior

Certified to remove 99.97% of particles 0.3 microns or larger, 53 ft2 filter media surface area, Non-woven Glass Microfiber Media, Medical Grade, non-offgasing Filter Separators

HyperHEPA Filter Life (approx.)

Excellent

2-4 years

@ avg usage of 10hr/day on fan speed 3, filter life varies depending on air quality environment where IQAir Purifier is used.
Total Filtration Efficiency (

certified

)

99.97% of

0.3 micron (each IQ Air Purifier is individually factory tested to verify this high level of filtration efficiency), and 99.5% of 0.003 micron (smallest particles)

Passes World's Most Stringent HEPA Filter Test for ultra-fine particle removal (EN-1822 Certified)

At least 99.95% removal of 0.22 micron particles at air flow rate of 112 cfm or less (HEPA Class H13 - MPPS Efficiency) Superior

At least 99.5% removal of 0.16 micron particles at air flow rate of 280 cfm or less (HEPA Class H12 - MPPS Efficiency) Superior

Remote Control w/ batteries
Castors for ease of mobility

Control Panel

Advanced LCD display

, 4-key touch-pad, 16 character 2-line, English/German/Spanish/French user selectable language display option.

Filter Life Indicator

Intelligently monitors actual use of each filter stage

(taking into account fan speeds and actual run time) w/ 3 filter life status LED indicators.

Timer

Programmable advanced timer

with day & hour operation settings, LED indicator.

Fan / Motor

6 speeds (programmable to 2 time periods)

, Centrifugal, Backward Curved Fan, Motor CSA rated for Continuous Operation, Thermal Protector, 780cfm @ 2750 RPM. See HealthPro fan/motor diagram below

Air Intake / Output

Air enters through dual arches at base of HealthPro air purifiers and exits at top via a 320 degree "EvenFlowTM" diffuser which reduces air velocity & turbulence, thus reducing noise.
Delivered Airflow Rate at each fan speed w/ filters installed (cubic feet per min)(certified & leak tested + Triple sealed):

40, 75, 140, 180, 220, 330 cfm

Power Required:

100-120 Volts, 50/60 Hz

Energy Usage for 6 fan speeds (Watts):

Energy Efficient Healthe Pro Air Purifiers

(costs only pennies/day to operate) #1: 27 watts, #2: 53 watts, #3: 92 watts, #4: 121 watts, #5: 215 watts, (Standby uses < 1 Watt)
Noise Level for each of 6 speed settings (in decibels) - specially engineered for extra noise dampening, 32% quieter.
Speed 1: 35 db, 2: 46 db, 3: 54 db, 4: 60 db, 5: 64 db, 6: 69 db (

IQAir Air Purifier sound output has been further reduced by 32% with their latest "New Edition" enhancements

- which includes a more efficient highly advanced aerodynamic fan, sound dampening materials, and improved air outflow design.)

Material Safety / Durability

Superior

IQ

Air Health Pro Air Cleaner Housing is Non-offgasing, UV-stabilized ABS, Impact Resistant plastic. Filter Separators are also Non-offgasing.

Certified Ozone Free

(by IAACM), no UV, ionization, or airborne chemical purification

Accessories Included:

Power cord and plug included, Hand-signed Certificate of Performance included, Remote Control w/ batteries included, Casters included, Pre-filter and HEPA filter included (V5-Cell odor & gas filter sold separately), and User Guide in VHS and DVD formats included.

IQAir HealthPro Air Purifier Warranty:

Excellent 5 Year Warranty on Parts and Labor for HealthPro Model

(filters excluded)
How IQAir HealthPro Air Purifiers Work
IQAir HealthPro is a perfectly efficient air cleaning machine for three main reasons:


The highly advanced aerodynamically optimized and extremely powerful fan and motor pulls and pushes air efficiently through the system.


Unlike most lower tier room air cleaners on the market today, there is no air leakage around filtration components within IQAir air cleaner systems. Each unit is factory air leak tested, air delivery tested, and 3D-Ultra sealed to assure all air that passes through the system will come out purified.


The filtration components themselves are unmatched in the air purifier industry to purify air to the ultra-pure standard often found in multi-million dollar high tech clean room environments.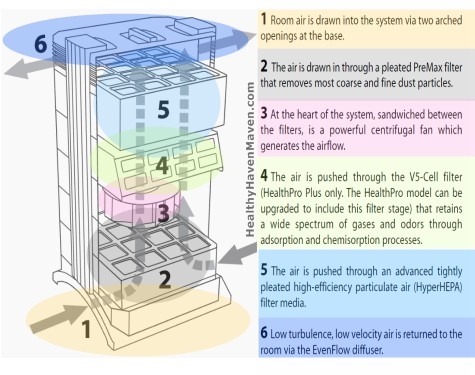 Notice step# 4 in the above diagram is showing the optional (and highly recommended) V5-Cell Gas and Odor filter installed above the fan (see diagram of V5 below).
This filter stage contains 5 pounds of activated carbon and alumina gas/odor filtering media and it comes standard with the best in class HealthPro Plus. But this gas/odor stage is only an upgrade option in this model (HealthPro) and will add ~$99 more to the above price.
Given the extra cost of this filter to upgrade this model to be able to filter out all phases of pollutants (both solids and gases), a better value is the IQAir HealthPro Plus Air Cleaner because it is identical to this model, yet includes all 4 filter stages, and at a better all-in-one price.
Click above link for full rating and review of HealthPro Plus - our overall top pick with a score of 97% (out of 100%) and the model rated by Consumer Report as the "Best Buy".


Stage#1: IQ Air HealthPro Purifier PreMax Pre-Filter
This high capacity preliminary filter captures courser particles such as pollen, pet hair, house dust, and mold spores.
Surprisingly, just this one pre-filtration stage cleans air to a greater extent than many multi-stage HEPA room air cleaners on the market today.
This course particle removal by the PreMax filter helps save money on filter replacement costs. This is because PreMax helps extend the life of any subsequent gas and HEPA filters by protecting the extremely tiny nano pores of later filters from becoming clogged by these larger particles.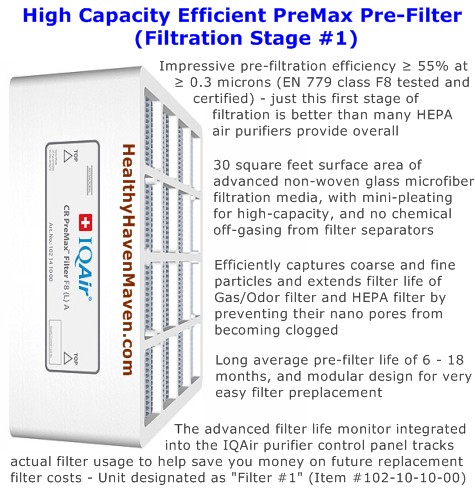 You can find PreMAX Replacement Pre-filters for the HealthPro and HealthPro Plus using the following article number:
Art. No. 102 10 10 00


The Powerful and Highly Advanced Motor at the Heart of IQAir's HealthPro Air Purifiers
Even the supremely effective Health Pro filtration stages would mean nothing if it were not for the below highly advanced and amazingly powerful fan/motor which is able to efficiently push and pull air through those filters.
The first generation fan and motor was highly effective before. But now IQ Air has released the "New Edition" red label improvements, including the below 3rd generation version dripping with innovations that have helped produced an impressive 25% improvement in clean air delivery, and a 32% reduction in sound levels.
Art meets science...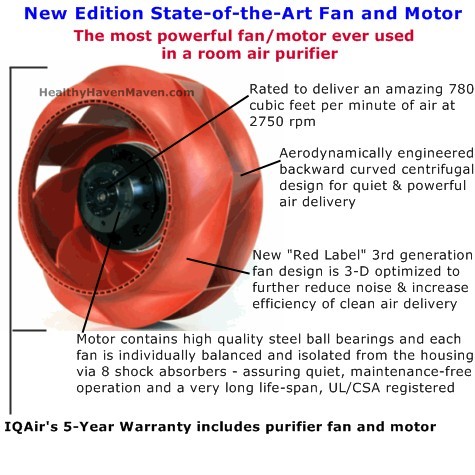 IQAir Rocket Scientists and Area 51?
Notice the aerodynamically significant curved dips aligned at the edge of each backward curved fan blade in the below fan side view. It looks like a part that could have come out of an SR-71 Blackbird.
These special curved edge dips (similar in purpose to the dimples on a golf ball) likely produce air vortexes, or swirling low pressure areas, similar to what you would see coming off the wing tips of advance supersonic jet planes.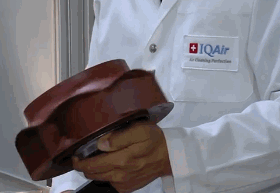 My trained eye tells me these "drag mitigating counter-current vortexes" are likely part of the secret of how IQAir was able to squeeze so much more power and noise control out of their already industry leading fan and motor assembly.
Constantly pushing the envelope, this impressive Swiss manufacturer is clearly intent on staying the dominant innovator in the air purifier industry for many more years to come. I consider IQAir to be like the Apple of air cleaners.
I have seen no other room air cleaners on the market that have a fan/motor assembly that even comes close to the power, quality, and scientifically optimized design of IQAir's HealthPro models.


Optional Chemical Gas and Odor Filtration Upgrade for ~$99 (but see my money saving tip following the diagram)
I highly recommend you do not invest in a home air cleaner that does not include the ability to capture Volatile Organic Compounds such as toxic Formaldehyde and other chemical fumes commonly off-gased by many man-made things within most homes.
Unfortunately, the standard HealthPro model reviewed and rated on this very page does not include the below V5-Cell chemical gas and odor filter you see in the following diagram.
If you already own this standard HealthPro model, which does not include the gas/odor filter, it would be a smart move to purchase the V5-Cell filter for ~$99. This is a must for anyone with COPD, Multiple Chemical Sensitivities, Asthma, Allergies, and other illnesses.
The V5 filter is very easy to install and it will add health benefits from the added chemical air purification ability, as compared to just HEPA control of solid non-gas particles.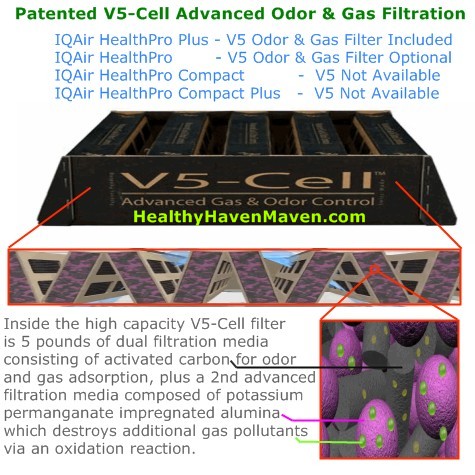 If you are looking for the best HealthPro model to buy, I would recommend you choose the top-rated HealthPro Plus model instead of the standard HealthPro because it will save you money overall.
HealthPro Plus is identical to this model, but the V5-Cell gas and odor filter is included for a better total price. See above link for our full rating, review, and price comparison of that better all-inclusive deal.
You can find IQAir HealthPro or HealthPro Plus Replacement V5-Cell Filters using the following article number:
Art. No. 102 18 10 00