Healthy Home Insights
Join the expert's free mailing list to get the best healthy home strategies, advice, future freebies, coupons, and updates...
Wise 1st Step to a Healthy Home:
First Find Out What's In Your Air to Find Out What Sources to Control
A key to removing sources of air toxins in your home is to know what those sources may be. It's often not obvious. So the smartest move you can make is to first test your indoor air quality which can help you predict what specific pollutant sources may be causing your symptoms and poisoning the air your family is breathing.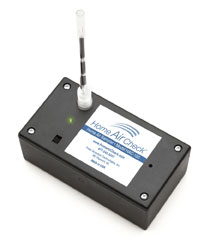 Once you identify hazards like hidden toxic black mold colonies or elevated levels of volatile chemical compounds - then you can start taking action to fix the problem (for example via moisture control strategies, downsizing your chemical product usage, green renovations & repairs, home air cleaners, ventilation fans, duct cleaning, or better HVAC filters.
Let's get started in the smartest way possible...Here is the highly advanced, accurate, very affordable and easy to use pro-grade test kit used by healthy home experts and professional inspectors, BUT without the huge middle man mark-ups or need for an expert to run test or interpret results. You just flip a switch...