[Disclosure: Please assume all outbound links may in some cases provide site-sustaining revenue from ads or referrals (with never any extra costs to you). See footer for more details. Thank you]


IQAir HealthPro Contains the Best Air Purifier Hepa Filter in the World!


Now It's Official, IQ's Air Purifier Hepa Filter Makes It the Best in the Industry, with Close to 100% Efficiency!

---

Press Release: The IQAir HealthPro is Now Certified to Have Close to 100% Efficient Air Purifier Hepa Filter
For Immediate Release July 1, 2002

IQAir doesn't just meet the home air purifier hepa filter standard – they exceed it. The IQAir HealthPro is the world's first home air purifier to pass the world's most stringent test for HEPA air filters: EN 1822. This test certifies an air purifier hepa filter's absolute minimum efficiency for all particles. The efficiency of HEPA air filters has been traditionally measured at 0.3 microns. However, over 90% of all airborne particles found in homes and offices are smaller. And these smallest of particles cause most of the problems for those who breath them.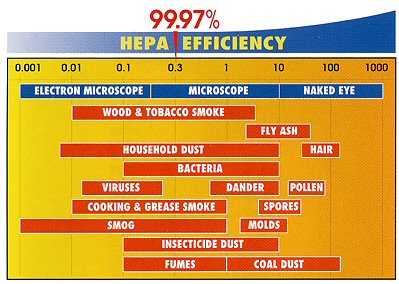 Most room air purifier manufacturers make no performance claims for these dangerously tiny particles. That's because the current 0.3 micron DOP test for particulate hepa air filters was developed in the 1950s. While it gives some performance guidelines for the efficiency of particulate hepa air filters, it does not tell us anything about which particles the filter is least efficient at filtering. While an air purifier hepa filter may filter out 99.97% of particles at 0.3 microns, it may filter significantly less at smaller particle sizes. Since this smallest of size fraction makes up the majority of air born particles and because these travel deeply into the lungs' alveoli causing the most lung damage, it stands to reason that the best air purifier should contain hepa air filters with a high efficiency for the sub 0.3 micron particles.


The efficiency of a home air purifier for removing these tiniest of particles is integral in being able to separate the best air purifier hepa filter from the not so best air purifier hepa filters. This is why the EN-1822 test was developed.
The EN (European Norm) 1822 is a two part test, which identifies the particle size that penetrates the air purifier HEPA filter most easily, hence the name MPPS (Most Penetrating Particle Size). EN 1822, which was released in the year 2000 is world's most advanced and stringent standard for home air purifier HEPA filters and particulate filters. Many high-tech manufacturers such as Intel already require their filter suppliers to supply them with EN-1822 certification.


The first part of the EN-1822 air purifier hepa filter test determines which particles penetrate most easily through the HEPA air filters' media. Since the efficiency is strongly correlated to the speed with which the air passes through the media of hepa air filters, this is done exactly at present speed - under actual conditions of the home air purifier use. When the most penetrating particle size has been determined (e.g. 0.16 microns for the IQAir HealthPro HyperHEPA air filters), this information is used in the second part of the test.


Part 2 of the EN-1822 test uses a test rig in which the home air purifier HEPA air filters are presented only with particles of the most penetrating particle size (e.g. 0.16 microns). This creates an absolutely worst case scenario for the hepa air filters, and is an important part of any evaluation to find the best air purifier.


The IQAir HealthPro HyperHEPA home air purifier filters are currently the world's first HEPA air filters in a home air purifier to have been type-tested inside the IQAir HealthPro housing by an independent hepa air filter testing laboratory (Filtech Laboratories Switzerland). IQAir HealthPro air purifier HEPA air filter was rated at a worst case efficiency of > 99.95% for airflow rates up to 190 m3/h (112 cfm) and > 99.5% for up to 475 m3/h (280 cfm). This makes the IQAir HealthPro the best of the best air purifier in the world for filtration of close to 100% of even the tinies of particle sizes! That makes the IQAir HealthPro room air purifier a rarity especially in any home air purifier comparison to the poor performing filterless air purifier, ionic air purifier, negative ion ozone generators, and countless other HEPA air purifiers marketed incessantly on TV. Of all home air purifier filters reviewed none performs more efficiently than the IQAir home air purifier filters.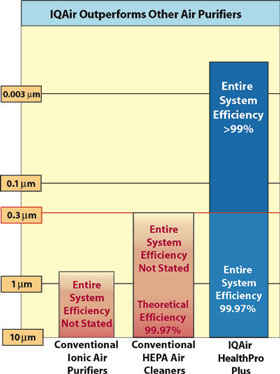 While the home air purifier filters' efficiency at 0.3 micron gives some indication of home air purifier hepa filter efficiency for particles, it doesn't give you a worst case performance scenario. IQAir is at the cutting edge in determining this worst case air purifier HEPA filter performance for its indoor air purifier line. Independent testing of it's hepa air filters has determined that the absolute worst case HEPA air filters' efficiency at any particles size is better than 99.5% for speeds 4, 5 and 6 and 99.95% for speeds 1, 2 and 3. As a result, the IQAir HealthPro air purifier HEPA filter captures up to 100 times more particles than many home air purifiers reviewed. No fair air purifier comparison can be made to the IQAir HealthPro's HEPA air filters because it far exceeds the majority of all home air purifier filters on the market today.

---

Top